Owning a WaBa Grill franchise has long-term profit-potential and unlimited scalability
This is the most important question that entrepreneurs should ask about any business opportunity. You want to know that the risk will be worth the reward, and the business you're investing in will be capable of helping you realize your goals – not only now, but over the long-term as well.
WaBa Grill exists to help entrepreneurs run thriving and profitable restaurants. Our business model is designed to maximize profitability and the simplicity of our operations allows our franchise owners to scale. In fact, the majority of our franchise owners own multiple locations, and they continue to invest in new locations in large and growing numbers.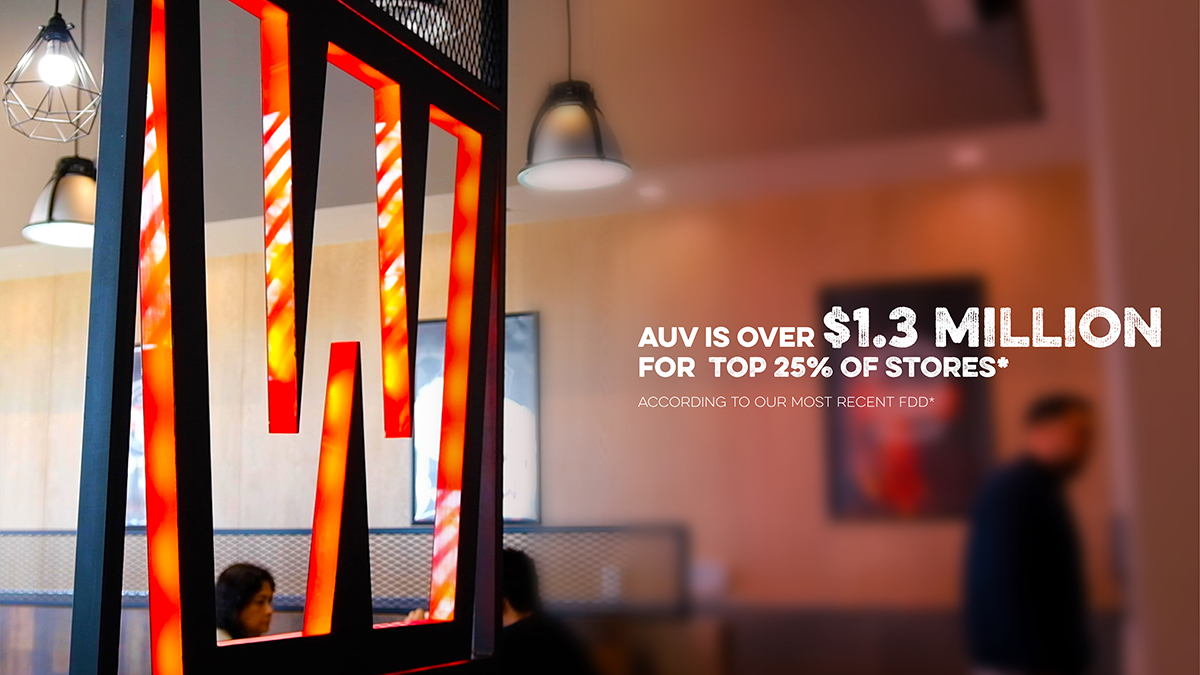 "One of the best ways to determine if a franchise system is a worthy investment is to look at its franchise owners," says Andrew Kim, CEO and President. "The majority of our growth over the last several years has come from our franchise owners investing in new WaBa Grill locations, which is very validiting to us. It means that our business model works, that our franchise owners are thriving, and that they're confident that WaBa Grill will continue to meet their goals."
The simplicity of our concept drives lasting growth
While many fast casual concepts are complex by design – everything about the WaBa Grill business model is designed to be as straightforward as possible.
From the simplicity of our menu, which only uses a few high-quality ingredients, to the simplicity of our kitchen, which is designed to maximize labor, WaBa Grill is a concept that can be replicated over and over again.
This is why so many of our franchise owners own multiple locations, and why several in our system own more than a dozen. As WaBa Grill continues to enter new markets, our franchise owners continue to lead the way here, too.
This is exactly the case of Jerry Bajwa, owner of 19 locations in the Los Angeles area – and Bajwa is only getting started. He is currently in the process of building out the Central California and Phoenix, Arizona market, which will have him adding several more locations to his WaBa Grill portfolio. Bajwa credits the simplicity of the WaBa Grill business model with his ability to continue scaling beyond his own hometown market of Los Angeles to an entirely new market.
Download the Franchise Report
Bolstered by three years of double-digit sales increases and a proven business model that focuses on profitability and boundless scalability, WaBa Grill is rapidly expanding into the rest of the nation.
Request Information
"I started with a few locations, and now, I own 19 in the Los Angeles area – and I'm planning to build-out Phoenix," Bajwa says. "The reason why it's so scalable is because the business model is so simple and easy to replicate. WaBa Grill is a concept that makes sense in almost every market, as we serve a product that doesn't have a lot of competition and is very underserved from a consumer standpoint. We're able to win a lot of loyal customers as soon as we enter a new market, because we're what people want – a healthy fast casual option that tastes great and is affordable."
Ready to invest in a WaBa Grill franchise?
To learn more about investing in a WaBa Grill rice bowl franchise, simply fill out the inquiry form on this website and we will reach out to you to start a conversation.